Celebrating 27 years of dance in Flagstaff with Canyon Movement Company! 
---
---
Upcoming Events
We want to take a moment to thank all of our friends and supporters as we navigate these unprecedented times! Thank you for "attending" our virtual festival, for students taking online classes, for donations and moral support! We, like everyone else, keep moving forward with a cautious eye on the future. We can't wait to see you at a live performance in the future, or in class. We are excited and grateful to announce that the Flagstaff Arts Council has awarded us some emergency relief funds to help us pay our bills during the pandemic. Thank you! Thank you! Thank you!
Award notification link here
Did you see the article in Sunday's Arizona Daily Sun? 
Thanks to everyone who joined us for our on-line dance festival! We had so many of you watch the show. We hope you truly enjoyed it. Please consider a donation if you haven't already done so. Donations can be made at https://www.facebook.com/donate/1546991015475282/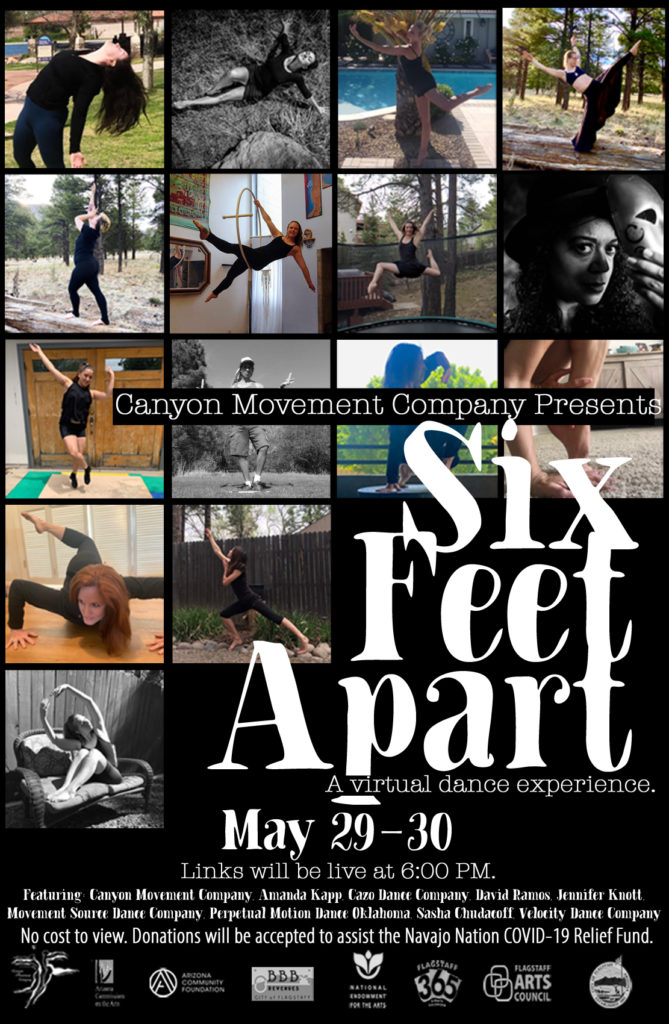 ---
Thanks to MacKenzie Chase and the Arizona Daily Sun for this great article about the show. 
Did you see our Review of the show at Summerlin Library Performing Arts Center in Las Vegas, July 26, 2019? 
---
The Only Man by Gina Darlington

Exam Room by Gina Darlington


---
Canyon Movement Company offers ADULT MODERN DANCE CLASSES every Tuesday from 6:15-7:30pm during the summer.   Rotating teachers from the company keep the class exciting and unique.  Open to the public.  $15/class or buy a 10-class pass for $120.
---
---
Some of our first films: