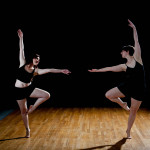 Canyon Dance Academy donations:
If you would like to make a donation for online classes, or any other reason, there are three ways you can do that:
You can click on the link below and pay through your Parent Portal. It is a "donation," and thus will not be reflected on your statement.

PayPal or credit card on the Canyon Movement Company donation page. The PayPal page says the donation is to Canyon Movement Company, which is our parent company

Mail a check to 2812 N Izabel Street, Flagstaff, AZ 86004. Donations in any amount are appreciated.

All donations will be used to pay the teachers and other overhead costs at the studio during this time. The donation is tax deductible. If you desire an acknowledgement for your taxes, please indicate with your payment. 
Donate through Canyon Movement Company's donation link: 
---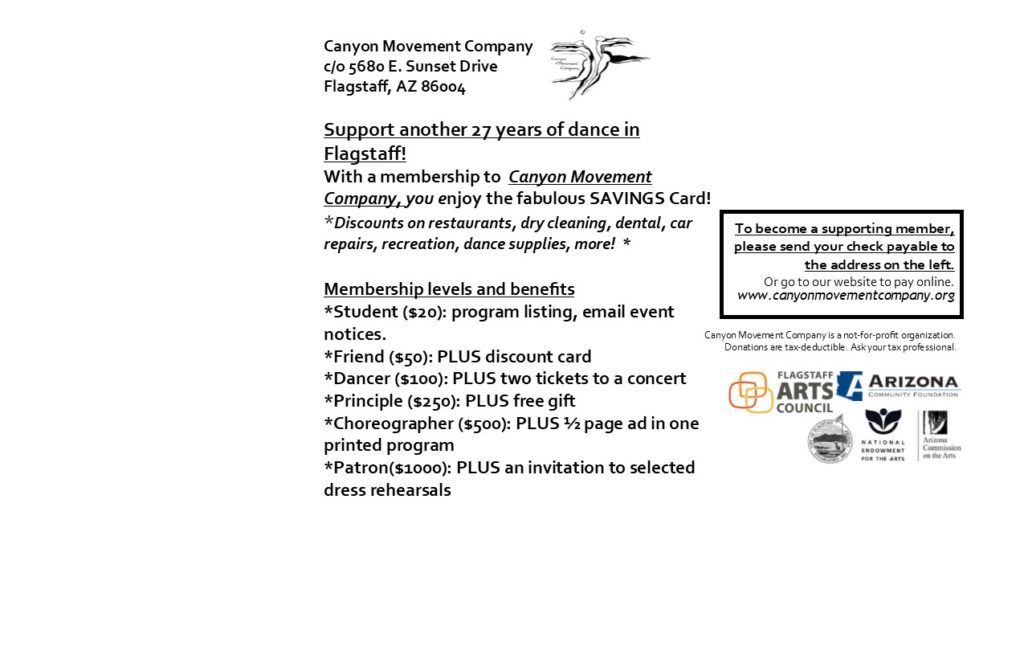 December 19, 2019
Dear Canyon Movement Company supporter,
Thanks to the support of members like you, Canyon Movement Company has done some exciting things this year!  In our twenty-seventh year, we continue to fulfill our mission while expanding what we are doing.
 At this time, we are asking for your continued support of dance and the arts in our community.  We hope you will be able to give generously to support Canyon Movement Company for the upcoming year.  If you have never donated, we welcome you!  If you are a long-time supporter, thank you for believing in us!  So please, during this season of giving, consider renewing or increasing your membership.   
 Pay online at https://canyonmovementcompany.org/cmc/support-us/
Or send your tax-deductible contribution to: Canyon Movement Company, Inc. 5680 E. Sunset Drive  Flagstaff, AZ 86004
 As a supporting member of Canyon Movement Company, your contributions make a difference in our ability to continue our programs in the community and the schools. As an added benefit, you receive our fabulous membership card with significant and exclusive discounts to many merchants and businesses in the community:
Several NEW participants including Starlite Lanes, Babies to Kids,
10% off at Fratelli's, discounts at Cuisine of India, and Altitudes Bar and Grill
15% off Odegaard's Sewing Center, Ogden's Cleaners
Discounts on hair-cut and color from Brea at Head First Salon and much more!
With larger donations, you receive free tickets to shows, and various free thank-you gifts. .
 Some of our accomplishments this year include:
We received an additional grants to continue our Dance for Parkinson's Disease program
We produced the eighth annual Spring Dance Festival including guest artists from FALA, CaZo Dance in Phoenix, individual artists, and Canyon Dance Academy
This year, we produced an encore of our NEW HOLIDAY show: A Christmas Carol in Dance. After 14 annual Nutcracker shows, we created something new last year. We anticipate returning to the Nutcracker and alternating years! We performed lecture/demonstrations for Coconino High School, Leupp School, and DeMiguel Elementary. We also did a full performance for Thunderbird Boarding School from Tuba City. 
We also perform at the annual Dance in the Desert Festival in Las Vegas, NV, Arizona Dance West Festival, and the Arizona Dance Festival in Tempe.
We are collaborating with multiple local groups for our shows.   
 We are also funded by the City of Flagstaff and the Flagstaff Arts Council, the Arizona Commission on the Arts, and the Arizona Community Foundation. An additional way you can support dance in Flagstaff, especially for your holiday shopping, Amazon will donate 0.5% of the purchase price to Canyon Movement Company Inc. and support us every time you shop with SmileAmazon.  Bookmark the link http://smile.amazon.com/ch/86-0797766
Sincerely, 
 Gina Darlington, Executive Director
---
We want to express our deepest gratitude to the City of Flagstaff, Flagstaff Arts Council, the Arizona Commission on the Arts, the National Endowment for the Arts, the Roberts Foundation, and the Arizona Community Foundation for increased support for the 2019-20 fiscal year. We are deeply humbled by your belief in the good we do in our community. Thank you!
---
---
---
Join the friends of Canyon Movement Company and support modern dance in Northern Arizona.  A great gift idea as well!
YES!!! I would like to become a Friend of Canyon Movement Company.
Please count me as a dance supporter in our community!
Member benefits include a new membership card with discounts to various community businesses including Dr. Scott Darlington, Fratelli's, Starlite Lanes Bowling, Ogdens's Cleaners, Odegaard's Sewing Center and more.
See below for all the benefits.
You also receive occasional e-letters, discounts to certain events, private invitations to Canyon Movement Company parties and receptions, recognition in programs, receive mailings about upcoming events, and satisfaction in supporting modern dance in Flagstaff. Please renew your tax-deductible membership and your support of professional modern dance in our community today. Your support is needed and appreciated!

---
---
If you would like to become a member, please mail a check with your contact info including email (we don't share it) OR YOU CAN NOW PAY ONLINE VIA PAYPAL!!!  Click on the icon below and it will direct you to the Paypal payment page.
Another free and easy way to give even more:
Amazon will donate 0.5% of the purchase price to
Canyon Movement Company Inc. and support us every time you shop with SmileAmazon. Bookmark the link http://smile.amazon.com/ch/86-0797766
---
---
---
Contribution Options:
Student ($20): program listing, email event notices.
Friend ($50): PLUS discount card, special events' invitations.
Dancer ($100): PLUS two tickets to a concert.
Principle ($250): PLUS a free gift
Choreographer ($500): PLUS ½ page ad in one printed program.
Patron($1000): PLUS an invitation to selected dress rehearsals.
We would like to thank all of our current members:

Special Gift $10,000:   "A gift to the Canyon Movement Company to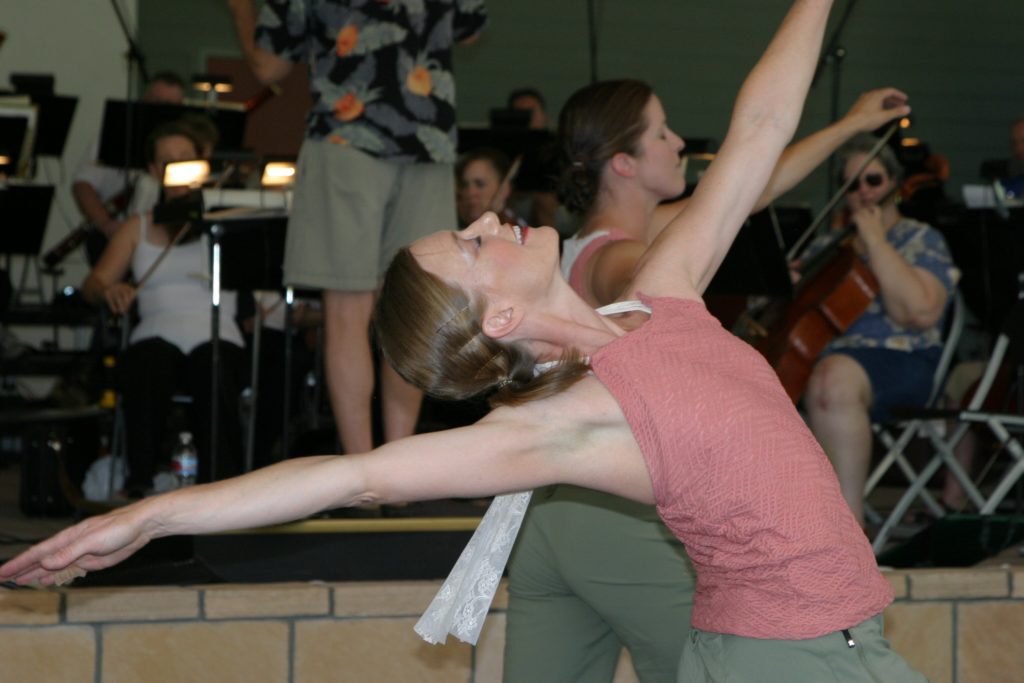 honor our daughter, Carol Hart, and her many contributions as a dancer, choreographer, teacher and board member.  From Pat & Merrill Shanks". 
 Patron $1,000+: Arizona Commission on the Arts, Arizona Community Foundation, City of Flagstaff and Flagstaff Arts Council, Dr. Scott* and Gina Darlington, National Bank of Arizona Charities, Roberts Family Foundation
Choreographer $500+:  
Principle $250+:  Joseph & Stacia Simonsen*
Dancer $100+: Arapas, Inc., Shannon Cosner, Amanda Craver, Scott & Shelly & Seddona Cundy, Carol and Stephen Hart, Northern Arizona Orthodontics, Robin Silver, Dave and Gigi Sorenson, Shari Sylvester, Kelly Poe Wilson*
Friend $50+:  Renea and Andrew Atiemo, Leslie Baker, Richard Baron, Desi Barquin, Lisa Barquin, Robert and Tina Caskey, Andres Delgadillo, Elsie Dunin, Glenn Farley, Andrea Graber, David and Jean Hockman,  Raena Honan, Natalie Jones*, Johanna Klomann, Julia Manygoats, Paul Moore, Robert and Karen Rhoades, Scott Sawyer*, Shelley Smithson, Jim Torson, Eric Walden*, Christine Westra, Kathryn Willis
Student $20 + 
 Canyon Movement Company is supported by the Arizona Commission on the Arts  with funding from the State of Arizona and the National Endowment for the Arts, Flagstaff Arts Council with the City of Flagstaff, Arizona Community Foundation,  National Bank of Arizona, Amazon Smile, and Private Donations. 
---
---
*Board of Directors
President:  Eric Walden         Vice President:
 Secretary: Kelly Wilson      Treasurer: Scott Sawyer

Members at Large: Desirae Barquin,  Natalie Jones, Julia Manygoats, Stacia Simonsen, Kyle Taylor
If you are interested in serving on the board, please contact Gina Darlington at 928-526-9403


IT support provided by SNAPTEK